POSTED ON CYPRUS MAIL ON JANUARY 21, 2023
Now the weather has changed it is time for some rich flavours says RODDY DAMALIS
Now that winter has finally arrived on our sunny island, I have the perfect rainy weather dish. My venison shepherd's pie is hearty, with full, robust, and intense flavours.
A very popular item at the well-known but now closed 'ta piatakia' restaurant, it appeared every winter due to high demand. The 'sxino' pops with texture and flavour contrasting with the apricot and giving an unexpected taste spectrum. This is a great winter dish with which to impress your guests.
But as it is quite a labour-intensive recipe, I suggest making double the quantity and freezing the extra portion. The shepherd's pie can be made the day before and just baked before serving. Accompany with a fresh crunchy green vegetable such as sauteed green beans or broccoli.
'Sxino' is a local variety of the juniper berry used traditionally in our local wine cured sausages, or loukanika. If venison is not available, use beef or any game meat that will carry these bold flavours.
Venison Shepherds Pie
PREP: 1½ HOUR
COOK: 1½ HOUR
SERVES: 8
Ingredients for mince filling
2kg venison (coarsely minced)
1kg onions (finely chopped)
200g dried apricot (quartered)
700ml maratheftiko
½ cup olive oil
250ml water
150g tomato purée
1 tbsp 'sxino' (cracked) – if not available, use juniper berries
1 tbsp ground cumin
1 tbsp ground coriander
1 tsp cinnamon powder
¼ tsp ground cloves
¼ tsp ground nutmeg
1 tsp sugar
salt & fine black pepper
Ingredients for potato topping
½kg sweet potato (peeled and sliced)
½kg potato (peeled and sliced)
½ tsp cinnamon powder
¼ tsp ground nutmeg
125g butter
½ cup milk
1 heaped tsp baking powder
salt & fine black pepper
tsp sugar
salt & fine black pepper
Method for mince filling
Sauté onions in oil, when browned, add mince & spices. Cook until all juices evaporate & mince is browned
Add all the other ingredients (except the apricot), reduce the heat & allow to simmer for 1 hour
Add apricots & cook for a further 15 minutes
Place a layer of mince in a baking dish. Add a layer of the potato topping & smooth over the mince
Bake uncovered at 180C for 30 minutes
Method for potato topping
Boil potato & sweet potato in salted water until very soft. Remove from heat & leave in water
Place the butter & baking powder into the blender, adding the potatoes with a slotted spoon
Add a little of the water from the pot & blend until velvety. Add spices & then milk in a slow stream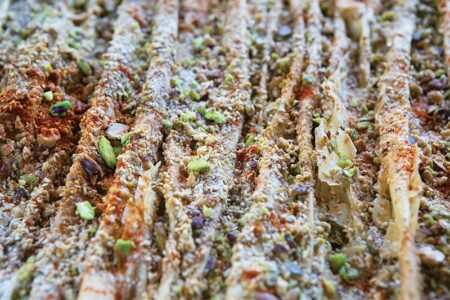 SAVOURY BAKLAVA
The savoury baklava is a great, unexpected addition to your drinks party repertoire!
This is a fun take on the original traditional dessert. Here, we get to play with phyllo pastry, which many are a little nervous to tackle. It's a lot easier that you imagine!
Phyllo can be purchased at any supermarket from the freezer section. Defrost in the fridge overnight. When using, work fast so that it does not dry out, cover with a damp tea towel while using. Roll up the remainder of the pastry and re-freeze. If the phyllo does dry out and becomes brittle you can use it on top of your favourite apple pie filling (instead of the crumbled dough) by just lightly coating in butter, sprinkle with a little water and crumble over your pie filling.
The baklava can be made the day before, as it lasts for days. Do not store in the fridge and cover with a net to prevent it from becoming soggy. Serve plain or with a dip of your choice.
PREP: 1 HOUR
COOK: 30'
SERVES: 12-15
Ingredients
6 sheets phyllo pastry
olive oil for brushing
200g almonds (cracked)
200g pistachio nuts (cracked)
100g sesame seeds
100g grated parmesan cheese
2 tbsp smoked paprika
2 tbsp coarse salt
1 tsp fine black pepper
Method:
Mix all the nuts, seeds, and spices together in a bowl
Place a sheet of phyllo onto a clean, dry surface and brush with olive oil, when done place a second sheet on top and repeat. Sprinkle a third of the nut mixture over the whole surface of the phyllo
With both hands "ruche" or "scrunch" to look like curtain folds
Repeat with the other 4 sheets, two at a time, and place onto a greased baking tray
Bake at 150C for 30 minutes or until golden brown
Allow to cool &cut into strips
Serve on a flat platter & dust with a little paprika