POSTED ON CYPRUS MAIL ON FEBRUARY 4, 2023
Sweet or savoury, there are plenty of ways to use local fruit and veg
With the large local pumpkins being in season, it's a good idea to take advantage, and use them in various dishes, as it is a very versatile vegetable that is readily available. Traditionally used for pumpkin pies (kolokotes), which are made with a filling of pumpkin, raisins and bulgur wheat, here we will make a hearty soup with aromatic curry spices.
A common misconception regarding a curry is that it must be very hot. The chili gets added after all the spices have infused, therefore you can regulate the chili to your taste. In this recipe I do not add any chili, as I do not want to hide the natural flavour and sweetness of the pumpkin. The soup can be served hot or cold and finished off with fresh cream. For a vegan option, substitute the cream with coconut cream.
This soup freezes well, so double up on the quantity. By adding less water and reducing well, you achieve a thicker, velvety sauce consistency which I use as a pasta topping with toasted pine nuts. A fun serving suggestion is to use an assortment of teacups and saucers for a starter portion. Please don't feel that you have to buy a whole one! Just ask your grocer to cut a piece for you. Butternut squash can also be used.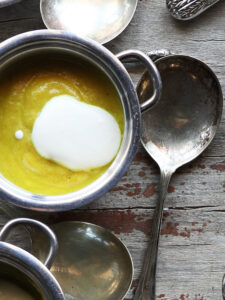 Curried Pumpkin, Ginger & Orange Soup
PREP:  1 hour COOK: 1 hour
MAKES: approximately 1.5 litres
Ingredients
2kg orange pumpkin (peeled & cubed)
2 medium white onions (peeled & sliced)
2 sweet red apples (peeled & sliced)
2 oranges (juice& rind of 2 oranges)
2 tbsp grated ginger
2 organic vegetable stock cubes
¼ cup olive oil
2l water
100g butter
½ tsp ground coriander
½ tsp cinnamon powder
¼ tsp nutmeg powder
½ tsp turmeric
1 tsp curry powder
1 tbsp brown sugar
100ml fresh cream (for garnish)
salt & fine black pepper
Method
Brown pumpkin & onion in olive oil & spices.
When browned & aromatic, add all remaining ingredients except for cream
Reduce heat & allow to simmer for about 40' or until pumpkin is very soft
Remove from heat, purée in blender (in small batches so that it doesn't splash out of the blender)
Serve in individual bowls& garnish with fresh cream (swirl into each bowl before serving)
Buttery Apple and Almond Cake
Absolutely delicious with lots of pouring cream or a good vanilla ice cream, serve warm as it comes out of the oven! This, easy to make party trick will soon be making a regular appearance at your dinner or tea parties.
PREP: 1 hour
COOK:1 hour
SERVES: 12 medium pieces
Ingredients
1 cup caster sugar
125g butter (at room temperature)
3 eggs
1 cup self-raising flour
1 heaped tsp baking powder
1 sachet vanilla sugar
¼ cup milk
½ cup flaked almonds
rind of an orange
6 large apples
For syrup
125g butter
½ cup sugar
1/3 cup milk
½ tsp cinnamon powder
Method
Peel & cut apples into large bite sized pieces, boil for 5' & strain. Allow to cool.
Cream butter in mixer, slowly adding caster sugar.
Add eggs one at a time & then orange rind.
Add dry ingredients, one spoon at a time, alternating with milk; continue mixing until well blended.
Grease an ovenproof dish (26cm x 26cm) & pour mixture into dish.
Place apples, one at a time, on top of cake mixture distributing evenly.
Bake in pre-heated oven at 160C for 50'.
Sprinkle almonds onto cake & place back in oven for another 10' to complete baking
To make the syrup, gently boil all ingredients together, stirring regularly until slightly reduced.
Pour the hot syrup evenly over the cake.