POSTED ON CYPRUS MAIL ON FEBRUARY 18, 2023
With winter upon us there are some traditional food items that are best enjoyed at this time of year
Trachana is definitely one of those items in the supermarket or deli that anyone who is not a Cypriot just doesn't know what to do with and therefore avoids. It is a mixture of cracked wheat and soured yogurt that is sundried into little cakes in the summer, another clever trick of days gone by to preserve products for use throughout the year.
Traditionally Trachana is cooked in chicken stock until soft, during which it releases a sour flavour. When plated, cubes of halloumi are added. An aunt of mine from Constantinople would grate very ripe tomato into the plate and sprinkle a subtle amount of cinnamon over it. Delicious!
Our recipe today is an adaptation of the original. A personal favourite of mine, I love using it for a 'one pot dish' with no frills and spills. I suggest adding small cubes of halloumi when serving. If goat is not your cup of tea, lamb is a great substitute.
Goat with Trahana & Yoghurt
2kg goat (shoulder cut into cubes with excess fat trimmed)
Salt
Cracked black pepper (to taste, though should be quite peppery)
Sauce
200g Trahana (sundried cracked wheat and yoghurt)
1litre water
8 bay leaves
2 organic chicken stock cubes
500ml white wine
Mixture to be added to goat when cooked
2 cups yoghurt
2 teaspoons cornflour
200ml water
For the sauce
Place the Trahana, water, bay leaves, chicken stock and wine into a pot and boil on medium heat for approximately 20 minutes or until the 'Trahana' patties have loosened.
For the goat
Coat the goat with salt and cracked pepper. Brown under a pre-heated grill for 20 minutes at 240C, turning once.
Place the meat into a deep oven dish, pour sauce over, cover and bake at 200C for 2 hours (check if it needs more water after 1½ hours).
When the meat is 'fall off the bone' tender, remove from oven.
Mix the yoghurt, water and cornflour in a jug and pour over the goat. Combine gently by shaking the dish making sure that the goat pieces do not break.
Serve immediately.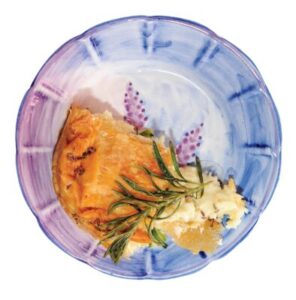 Galaktoboureko (Milk Tart) with Lavender Syrup
A freshly baked galaktoboureko is the ideal dessert on a cold winter day. It can be served at room temperature but I love it warm with a big pot of tea. I use my grandmothers silver teapot (definitely NOT a teabag chucked into a mug!!) that stands in a show case and is rarely used. This way a delicious dessert becomes a special occasion.
An orange blossom essence which is readily available can be substituted for the lavender.
Filling
1 litre milk
4 eggs
1 tablespoon butter (for filling)
3 tablespoons sugar
1 envelope vanilla sugar
½ cup semolina
½ cup cornflour
Phyllo pastry (12 sheets)
150g butter (for pastry)
Syrup
2 cups sugar
2 cups water
1 teaspoon lemon juice
2 teaspoons dried lavender flower or two sprigs of fresh lavender (place on a cutting board and gently bruise the fresh leaves to release the essential oils and maximise the flavour)
For the syrup
Combine all the ingredients and boil on medium heat for 15 minutes.
Allow to cool.
For the pudding
In a bowl, dissolve semolina and corn flour with the milk.
Add eggs and whisk until ingredients combine.
Place mixture into a pot and cook on a low heat, adding sugar, vanilla sugar, and butter.
Stir constantly for approximately 15 minutes until mixture thickens.
When thick, remove from heat.
Using a greased baking dish, layer phyllo pastry and brush each layer with melted butter (6 layers). Butter the dish too.
Add the slightly cooled custard filling and top with another 6 layers of phyllo, brushing with butter.
Score phyllo into portions but do not cut through (use a very sharp knife).
Bake in a pre-heated oven at 160C for 1hour (or until golden brown).
Remove from the oven and pour cold syrup over the pie.
Allow to set before serving.