POSTED ON CYPRUS MAIL ON MARCH 4, 2023
After the hedonism of the carnival it is time to fast in preparation for Easter. But that does not mean flavour has to be given up
The past ten days of carnival have been a time of merriment, excess, partying, dressing up and celebrating the fact that we took it all for granted in the past. Back after a Covid hiatus, this year there was overwhelming islandwide participation in the carnival. As a proud Limassolian for the past 20 years, I have embraced and partaken in this frivolous, fun and hedonistic time of our city exploding with colour, music, song and dance!
The carnival which is celebrated in many major cities across the globe marks the period before the Lenten fast starts. The word originates from the Latin 'carne' meat, and 'vale' farewell.
This ten-day festivity culminates in the Grand finale on the Sunday evening which brings us to the far calmer and contrasting Green Monday. Families take to the fields where spring is showing off her colours with beautiful almond blossoms and wild flowers. Green Monday marks the first day of the Lenten fast. Children fly kites and picnic blankets are laden with 'tsakistes' bitter green olives marinated in lemon wedges, cracked coriander and garlic, 'lagana' an aromatic flat bread sprinkled with sesame seed, creamy tahini, various salads, and an array of green vegetables. Halva and pastry fingers 'daktyla' filled with almonds and a cinnamon syrup are also delicious must-haves on this day.
The 50 days which ensue are a period where we practice restraint, introspection, forgiveness, and follow the Passion of Christ which culminates in the service of the Resurrection and the Easter celebration thereafter. During this period all animal products are avoided, this serves as a physical cleansing to accompany the spiritual journey. But, this strictly vegan diet can be rich in flavours and ingredients.
Pumpkin and Sage Felafel stuffed with Feta Cheese
Felafel balls can be made the day before, covered and refrigerated so all you have to do is dry them when you want to serve. If you eliminate the feta cheese you have a vegan or Lenten version.
Preparation time: 1.5 hours
Cooking time: 40 minutes
Serves: makes approximately 50 pieces
500g dried chickpeas (soaked in cold water overnight)
1.5kg orange pumpkin
200g fresh sage leaves
200g fresh mint leaves
1 large onion
½ cup flour
1 tbsp baking powder
2 tsp cinnamon powder
2 tbsp dried coriander
2 tbsp ground cumin
½ tsp chilli flakes
200g feta cut into small cubes
Salt and pepper
Strain and rinse the chickpeas
Place them in two or three batches into a food processor and pulse until a coarse consistency
Finely chop the onion, mint and sage in the food processor
Place all the ingredients except the feta into a large bowl and mix well
Make the mixture into balls using a tablespoon to measure. With your thumb make an indentation into the ball and place a cube of feta into the cavity, then close
Heat some oil and deep fry the felafel until golden.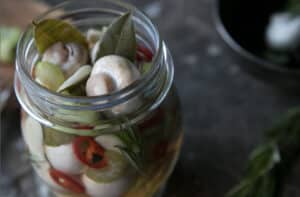 Pickled Mushrooms in Celery Vinaigrette
Preparation time: 1 hour
Cooking time: 15 minutes
Serves 8
1kg small button mushrooms
2 cups celery stalks thinly sliced
200ml red wine vinegar
300ml red wine vinegar
500ml water
1/3 cup olive oil
3 bay leaves
1 sprig fresh rosemary
2 fresh chillies slices in half lengthways
3 cloves garlic
1/4tsp sugar
½ tsp salt and black pepper
Combine water, 200ml vinegar and bay leaves in a pot and boil for 10 minutes
Blanch mushrooms in batches for three minutes, remove with a slotted spoon and place in a colander. Allow the vinegar mixture to reach boiling point before continuing to blanch
Allow mushrooms to cool and refrigerate. When cold add remaining ingredients and mix
Place into an airtight container and allow to marinate in the fridge for at least a day