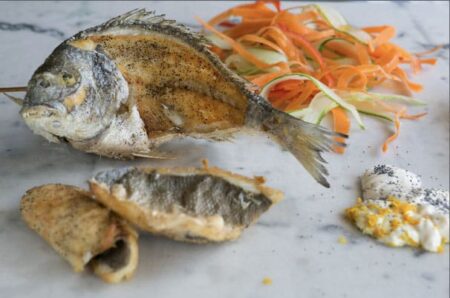 Fish for Palm Sunday
But don't forget about these recipes for the rest of the year says RODDY DAMALIS
Unlike the Christmas fast which is celebratory, with fewer dietary restrictions, the Easter fast is one of mourning and restraint. However, within these 40 days of severe fasting, Palm Sunday marks the triumphant entrance of Christ into Jerusalem which culminates in the Last Supper. This day is considered a joyful and celebratory day and is marked by a pause in the strict vegan diet (this even excludes the use of oil during the Holy Week). On Palm Sunday fish is permitted, and it is customary for families to go to fish tavernas dotted all along the coast to enjoy this day.
If however you don't feel like venturing out and would prefer to stay home and cook, I have two lovely fish options for you.
Wishing you a blessed Easter.
THE SEA BREAM
PREP: 2 HOURS / COOK: 30' / SERVES: 4
A dramatic presentation & combination of tastes that will blow your guests away. I experienced this impressive dish at a restaurant my family had taken me to in Melbourne. A dining experience can stay with you, evoking very strong memories when reproducing a dish.
4 whole sea bream (tsipoura)
2 cups flour
salt & fine black pepper
For salad
4 cucumbers (cut into ribbons with potato peeler)
4 carrots (cut into ribbons with potato peeler)
2 red bell peppers (cut into thin strips)
30ml mirin (Japanese sweet rice wine)
30ml red wine vinegar
30ml olive oil
2.5ml soya sauce
a pinch of demerara sugar
salt & fine black pepper
For mayonnaise
1 egg yolk
1 tsp mustard
1 cup sunflower oil
½ tsp grated orange rind
½ tsp poppy seeds
salt & fine black pepper
For sea bream: place fish on its side, on a board, & with a very sharp knife, fillet each side (start at the top of gills & work down against the backbone).
Dust each of the fillets & the skeleton with flour & then deep fry (remove the fillets when they are done & allow skeleton to get crispy & golden). Remove & drain on absorbent kitchen paper.
For the salad: slice all vegetables & refrigerate.
Mix all dressing ingredients & set aside.
Just before frying fish, pour dressing over the salad & toss gently.
For the mayonnaise: place egg yolk, mustard & vinegar into blender & process.
In a slow steady stream, drizzle in oil & watch mayonnaise build up.
Add all remaining ingredients & refrigerate (can be made 4 days earlier).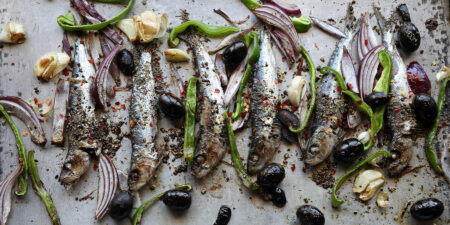 Sardines with Red Onion, Green Pepper & Black Olives
PREP: 1 HOUR / COOK: 30' / SERVES: 4
Make these for friends that love sardines; they are delicious! Use your hands when eating them; it's messy but more fun & also helps to avoid fine bones.
1kg sardines (gutted and scaled)
1 cup olive oil
1 cup lemon juice
2 cups parsley (finely chopped)
2 green bell peppers (thinly sliced)
2 red onions (thinly sliced)
½ cup black olives
4 cloves garlic (finely chopped)
1 tbsp dried oregano
4 bay leaves
1 fresh chilli (finely sliced)
salt & cracked black pepper
Combine the olive oil, lemon, parsley, onion, garlic & all the spices in a bowl & mix well.
Dredge the sardines one at a time through the mixture, coating well, place in an oven dish in one layer.
Pour the balance of the mixture over & cover well.
Bake at 200C for 20 minutes.
Uncover, add the bell peppers & olives, & continue baking for 10 minutes until browned.
Serve with plain boiled potatoes or village bread.
If you have time allow the sardines to marinate in the sauce for a few hours.
Roddy Damalis is the author of two books, MY CY is a photographic journey through Cyprus, with stories, commentary, culinary tips, and anecdotes that let you in on the mind behind the recipes, and MY LITTLE PLATES a guide to 100 adored recipes inspired by our beautiful island served over two decades at the beloved Ta Piatakia restaurant in Limassol. Roddy is a restaurateur, celebrity chef, food guru and consultant. He stole both local and international hearts with his infamous and highly acclaimed restaurant Ta Piatakia in downtown Limassol and now operates My View, an exclusive private dining venue in his home. For more information and to purchase the books visit www.roddydamalis.com