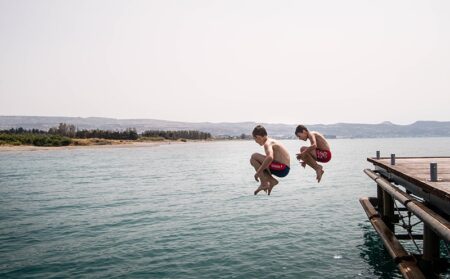 The recipe for enjoying the island comes alive when you have to show its high points to visitors says RODDY DAMALIS
Today, I don't have a recipe with various grocery ingredients and instructions that will make one particular finished plate, but rather a recipe that I look forward to each year. The recipe of taking friends, family, loved ones from abroad that come to our beautiful island looking for that idyllic Mediterranean summer holiday and the magical ingredients that Cyprus has to offer around.
Be they Cypriots of the diaspora visiting family and touching base with their roots, friends that are travelling in Europe and hop over, or tourists that grace us with choosing us over so many other destinations.
What I love is the fact that I dip into this holiday spirit along with our visitors, taking a day off in the middle of the week and going on an excursion. I feel such pride in taking my guests or guiding a first-time visitor to 'where the locals go'. Of course, I always choose WHERE WE WILL EAT first, and then weave the rest of the experience around that! Doing so takes me out of my daily routine and I feel that I am on holiday too. I love being an ambassador for our island! I'm sure it applies to all of us that call Cyprus home. Just this week, a few of us, all local, went to the beach and then almost somnambulated into the adjoining fish taverna for a long, boozy lunch. We all commented at how fortunate we are to be able to enjoy the privilege of this experience that is right on our doorstep.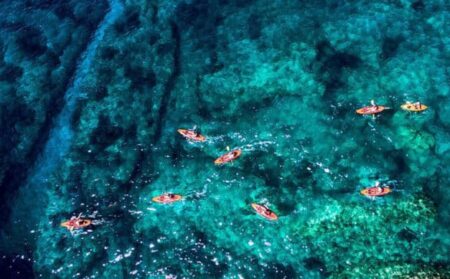 Some of my favourite treats that I feel represent my Cyprus are as I mentioned before, a day at an idyllic bay floating in crystal clear water and enjoying a seafood mezze thereafter. Ouzo is a great accompaniment! Avdimou bay is one of my favourites. Of course, what I always recommend, and I love this one… is a souvla, cruise from Latchi bay to the Blue lagoon. Here I definitely feel like I'm on holiday! Kids and adults alike love diving off the boat.
We cannot forget a drive to the mountains stopping at village stores for mandatory supplies of 'soujouko' (candle like reduced grape must coated onto a thread of almonds or walnut), preserved fruit 'Glyko', my favorites are the walnut (karidaki) and the sour cherry. A visit to our monasteries from the most humble to the most opulent is a must to light a candle and to dip into our deep religious culture. I always stand in awe in front of the magnificent icons with their stoic faces and beautiful Byzantine colours. Villages such as Omodos with its cobbled stone roads and picturesque shops and houses always impress.
Our wonderful wineries, from the very traditional, to the very modern, open their doors to the public for tastings and tours.
Visiting ancient archaeological sites where you get transported thousands of years back in time and dip into history is fascinating. I love the Curium ruins and amphitheatre, which evoke in me a sense of drama with the breathtaking views are well worth the experience.
Lunch at a 'psistaria' (home-cooked Cypriot menu) at a hole in the wall in any of our old cities.
A jaw dropping, overwhelming (for a first timer) mezze with a bouzouki in the background. The sheer variety of dishes, flavours and quantity of this feast leaves guests amazed, always declaring that they will not eat for the next two weeks. I always say at these occasions that dining out is our national sport!
A visit to Nicosia, our capital, which is steeped in history, is mandatory. Most guests do some research before as it is fascinating. Meandering through her old city transports one to days of old. In complete contrast is the magnificent contribution of Zaha Hadid in the moat that surrounds the city. The museum of antiquities is a must, as well as the museum of more modern Cypriot works.
For fun and frivolous beach days and crazy bar and club nights Protaras and Ayia Napa are the places to be. Certainly, on the list for the younger visitor (as well as the young at heart!)
These are a few of my favourite things – to quote Julie Andrews – but there is so, so much more that one couldn't possibly mention them all. Knowing that we can offer such diverse experiences that make up visitor's unforgettable holiday memories leaves me feeling warm and fuzzy. (A bit of an understatement given our summer temperatures!!!)
Winding down from all the running around, I also love taking things back to basics showing our very humble roots and enjoying my guest's company at home over chilled, sweet watermelon and village halloumi.
Roddy Damalis is the author of two books, MY CY is a photographic journey through Cyprus, with stories, commentary, culinary tips, and anecdotes that let you in on the mind behind the recipes, and MY LITTLE PLATES a guide to 100 adored recipes inspired by our beautiful island served over two decades at the beloved Ta Piatakia restaurant in Limassol. Roddy is a restaurateur, celebrity chef, food guru and consultant. He stole both local and international hearts with his infamous and highly acclaimed restaurant Ta Piatakia in downtown Limassol and now operates My View, an exclusive private dining venue in his home. For more information and to purchase the books visit www.roddydamalis.com