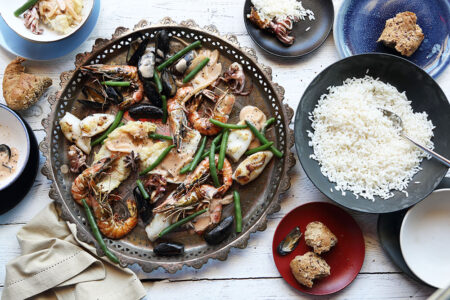 If you are after an impressive dish to serve to family and friends look no further says RODDY DAMALIS
Fragrant, Aromatic Seafood Curry Smothered in a Delicate Coconut Milk, Cardamom & Star Anise
This fabulously presentable dish is my go-to dinner party trick. Guests tend to have rather high expectations when coming to a chef's home for dinner, which sometimes puts me on the spot. I, of course, want to serve something impressive, but at the same time not spend the evening in the kitchen but enjoy my guest's company. That's why this recipe is mostly about the pre preparation, leaving just the finishing touches for the last minute. The sauce must be made first. I make it the day before and refrigerate. The seafood can be sauteed an hour before serving and placed in layers in a deep oven proof dish. Pour the room-temperature sauce over the seafood. Bake 20 minutes before serving.
The technique for the calamari and the prawns is an important one. I have often been asked how my grilled calamari is always so soft, tender, and juicy. The secret is, DO NOT OVER COOK IT!!!  To emulate the restaurant flat top grill, or teppanyaki style grill, use a large, heavy based non-stick pan. Please invest in one if you do not have one. Place it on the stove top on the highest temperature possible. Allow the pan to draw in as much of the heat as possible by allowing it to stand for 4 to 5 minutes. Have your calamari or prawns strained from before and coated in olive oil, salt, and fine pepper. When the pan is at its hottest, place one layer of calamari into the pan spread out, and not in a pile. The trick is to allow the calamari to form a crispy crust and be moist on the inside. Once this has happened, turn gently with a lifter or a spatula. DO THIS ONLY ONCE. If you stir the calamari too often it will produce too much liquid and boil instead of getting crispy. Drizzle a little olive oil and just stir fry for a further 30 seconds and remove from the heat.
For our curry recipe below, place the calamari in the baking dish with the fish fillet and the mussels. However, the technique that I have described is perfect on its own, you can add chopped garlic and chili as you turn the calamari or prawns the first time. When it's ready add freshly squeezed lemon juice and serve immediately. It's delicious!
SERVES: 8
1kg fillet of firm white fish (cod or plaice)
1kg prawns (shelled or with shell)
1kg mussels (in shell)
½kg calamari (cleaned)
½ cup olive oil
½kg frozen green beans
salt & fine black pepper
For sauce
½ cup olive oil
4 medium onions (finely chopped)
1 tbsp tomato paste
500ml fruity, medium sweet white wine
2 tins coconut milk
2 tsp corn flour (dissolved in cold water)
1 tsp sugar
8 star anise
3 cardamom seed (cracked, seeds removed & ground in a pestle & mortar)
3 bay leaves
2 tsp mustard seed
½ tsp chilli flakes
2 tsp curry powder
4 cloves
1 tsp salt & black pepper
Method for seafood
Coat all seafood in olive oil, season with salt & pepper
Place the fish & mussels into an ovenproof dish in one layer
Heat a non-stick pan for 3' & place a single layer of calamari into pan. Do not stir
Allow liquids to evaporate, then turn over, when most the liquids have evaporated add a little olive oil & allow to brown. Do not cook through
Remove from pan & place on top of fish & mussels. Repeat this process with the prawns & add to the dish
Pour the sauce over & bake in a pre-heated oven (180C) for 30'
Serve immediately using a lifter so that the fish doesn't crumble
Method for the sauce
Brown onions in olive oil with spices until aromas are released & onion is sweet: add other ingredients except green beans & coconut milk
Simmer for ½ hour. Add coconut milk & green beans & simmer for another 5'. Remove from heat
Roddy Damalis is the author of two books, MY CY is a photographic journey through Cyprus, with stories, commentary, culinary tips, and anecdotes that let you in on the mind behind the recipes, and MY LITTLE PLATES a guide to 100 adored recipes inspired by our beautiful island served over two decades at the beloved Ta Piatakia restaurant in Limassol. Roddy is a restaurateur, celebrity chef, food guru and consultant. He stole both local and international hearts with his infamous and highly acclaimed restaurant Ta Piatakia in downtown Limassol and now operates My View, an exclusive private dining venue in his home. For more information and to purchase the books visit www.roddydamalis.com