We all have those special dishes that that when we see, smell, or taste them evoke either a place, an occasion, or a person. 'Soutzoukakia' bring to mind my Thia Evdoxia who was from born and raised in Istanbul. Hearing her and her sisters, who were always impeccably groomed and dressed, talk in an exotic language amongst themselves, and then in Greek about this mystical far away place always intrigued me. Dinners were colorful, aromatic & exotic. I had the privilege of living in the same street as Thia Evdoxia, so would visit her often. That meant spending time with her in the kitchen. People often ask me where I studied;' In various such kitchens' is my answer! What a pleasure to be able to hang around such colorful people, with their stories and the flavors that are woven into them. So, without any further ado, Thia Evdoxia's 'Soutzoukakia' are elongated goat mince patties that are stuffed with feta cheese and then baked in a rich, aromatic tomato sauce. The combination of cumin, coriander seeds and cinnamon work beautifully together. The chili is optional, but I love that bite that it adds. The tomato sauce can also be used as a base for other dishes or sauces.
I serve them on a base of creamy, smooth, buttery pure potato. They are traditionally served with rice.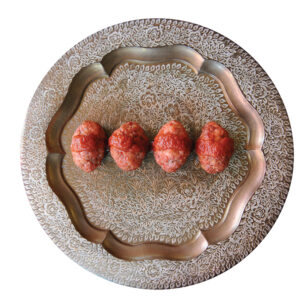 SOUTZOUKAKIA GOAT MINCE PATTIES IN AN AROMATIC TOMATO SAUCE – From "My Little Plates" Book, page 48
Ingredients
500g goat mince (coarsely minced)
2 medium onions (finely chopped)
2 teaspoons cumin (ground)
1 teaspoon coriander (dried and ground)
½ teaspoon cinnamon
Olive oil (for basting)
2 cloves garlic (finely chopped)
1 teaspoon salt
1 teaspoon fine black pepper
Filling
150g Feta cheese (crumbled)
1 fresh chilli – optional (finely chopped)
Sauce
750ml water
3 ripe fresh tomatoes (puréed in a food processor or grated)
½ cup tomato paste
1 large onion (puréed in a food processor or grated)
1 large carrot (grated)
3 garlic cloves (finely chopped)
½ teaspoon sugar
50g butter
½ teaspoon salt
¼ teaspoon fine black pepper
Method for sauce:
Saute the onion, garlic and carrot in a little olive oil until browned.
Add all the remaining sauce ingredients to the pot and simmer on medium heat for 20 minutes.
Method for sauce:
Mix the chili and Feta in a bowl.
Mix mince and spices together and place a dessert spoon quantity in your hand, roll into a ball and flatten. Place a teaspoon of Feta in the center and seal, forming into an oval shape.
Place into an ovenproof dish, greased with olive oil in one layer and brush them with olive oil, browning them for 10 minutes just on one side in a pre-heated oven at 240ºC until golden.
Pour sauce over and seal the container. Bake in a pre-heated, fan-assisted oven at 180ºC for 20 minutes and then uncovered for a further 5 minutes.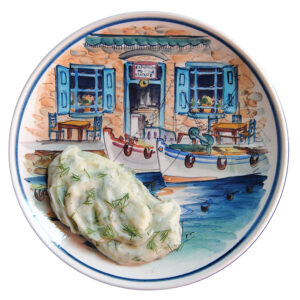 CREAMY PURÉED POTATOES – From "My Little Plates" Book, page 48
Ingredients:
 1.5 kg potatoes (peeled and cubed)
Water
1 teaspoon baking powder
50g butter (100g if you are feeling naughty!)
½ cup milk (warmed)
¼ cup fresh dill (shaved)
Salt
Fine black pepper
Method
Boil the potatoes in a lot of salted water until they start disintegrating (when they mash easily with a fork, they are ready). Remove from heat and keep them in the water.
Place the butter and baking powder in a food processor. Add the potatoes with a slotted spoon and a little of the water from the pot too (you will see the hot water react to the baking powder. This makes the purée really light and fluffy). When the mixture is smooth, start pouring in the milk slowly.  The consistency and texture resemble double whipped cream.
Place the purée into a serving dish and add the dill, folding in by hand. The heat of the potato will infuse the dill delicately.
Notes:
Alternatives to dill – any fresh herbs, sautéed onion, sautéed garlic, spring onion, sundried tomatoes, chives, etc.
Get creative with your flavours and add any ingredient which you feel   would complement your meal.
This dish can be made 2-3 hours in advance; just heat through in a microwave before serving.
For a vegan option, substitute butter with a vegetable-based product.